Every woman deserves to feel confident and fabulous, and having the right hair styling tools in her arsenal can make all the difference. Whether it's for everyday styling or special occasions, the ultimate hair styling tools can help achieve a variety of stunning looks. From sleek straight locks to bouncy curls and everything in between, these essential tools will empower women to transform their hair effortlessly. The Hair auto curler is a game-changer, effortlessly creating perfect curls with ease. Here are the must-have hair styling tools every woman should have:
1. Hair Dryer
A high-quality hair dryer is the foundation of any hair styling routine. Look for one with adjustable heat settings and a powerful motor to quickly dry hair without causing damage. A diffuser attachment is excellent for enhancing natural curls, while a concentrator nozzle helps achieve smooth, straight styles.
2. Flat Iron
For sleek, straight hair or polished waves, a flat iron is a game-changer. Invest in a flat iron with ceramic or tourmaline plates for even heat distribution and minimal hair damage. Adjustable temperature settings cater to different hair types, from fine to thick and coarse.
3. Curling Iron/Wand
Create beautiful curls and waves with a curling iron or wand. The barrel size determines the type of curls – smaller barrels for tight curls and larger barrels for loose waves. A clipless wand offers more versatility and prevents unwanted creases in the hair.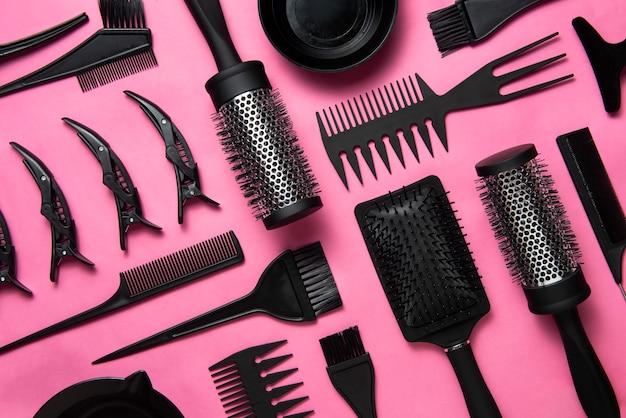 4. Round Brush
A round brush is a must-have for achieving smooth, voluminous blowouts. Choose a brush with a ceramic or ionic-coated barrel to reduce frizz and static, and consider the size of the brush depending on the desired volume and curl.
5. Hair Straightening Brush
For a quick and easy straightening option, a hair straightening brush is perfect. It combines the functionality of a brush and a flat iron, detangling and straightening hair simultaneously.
6. Hot Rollers
Hot rollers are excellent for adding volume and soft curls to the hair without the need for constant heat exposure. Opt for a set with different roller sizes to create various looks.
7. Hair Styling Clips and Pins
Having a collection of hair styling clips and pins is essential for sectioning and holding the hair in place while styling. They are particularly useful when curling or straightening hair in smaller sections.
8. Hair Spray and Heat Protectant
Alongside styling tools, hair spray and heat protectant are crucial for maintaining hair health and style longevity. A good heat protectant shields the hair from damage caused by styling tools, while hair spray provides hold and locks the style in place.
9. Hair Serum or Oil
To add shine and tame frizz, consider incorporating a hair serum or oil into the styling routine. These products provide nourishment and leave the hair looking smooth and lustrous.
10. Hair Accessories
Hair accessories, such as scrunchies, headbands, and hairpins, are versatile tools that can elevate any hairstyle. They add a touch of personality and flair to a look, making it feel complete.
With these ultimate hair styling tools at hand, every woman can unleash her creativity and achieve salon-worthy hairstyles from the comfort of her own home. From sleek and straight to voluminous curls, these tools empower women to embrace their unique beauty and express themselves through their hair.
Remember, the key to successful hair styling is patience and practice. Experiment with different tools and techniques to discover the looks that complement your personal style best. So, go ahead, invest in these essential hair styling tools, and get ready to slay every hairdo with confidence and grace.